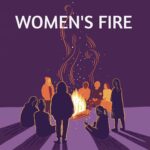 In this first episode of Women's Fire I wanted to hear from women of different life stages. I was able to talk to 7 women, from age 15 to 71, as they answered the following questions:
1. What women influenced you growing up?
2. What are you enjoying about this phase of life?
3. What are you finding challenging?
4. What are you looking forward to in the next 10 years?
5. What advice would you give your younger self?