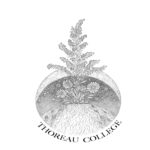 Episode 8 – "Austin Smith – Leaving Stanford, Coming Home"
The poet Austin Robert Smith joins Microcollege for an examination of the current state of higher education and the role of poetry in a liberal arts education.
Austin Smith is a poet and formerly a Jones Lecturer at Stanford University. He grew up on a family dairy farm in northwestern Illinois before receiving a BA from the University of Wisconsin-Madison, an MA from the University of California-Davis, and an MFA from the University of Virginia. Austin's poems have appeared in The New Yorker, Poetry Magazine, Yale Review, Sewanee Review, Ploughshares, New England Review, Poetry East, ZYZZYVA, Pleiades, Virginia Quarterly Review, 32 Poems and Threepenny Review, amongst others. His most recent collection of poetry, Flyover Country, a celebration of the rural Midwest and small-town life, is available through Princeton University Press.
Flyover Country, Available Now: Flyover Country
Substack: Poem-a-Day
Learn more about Thoreau College and the microcollege movement at https://thoreaucollege.org/
Driftless Folk School: https://www.driftlessfolkschool.org/